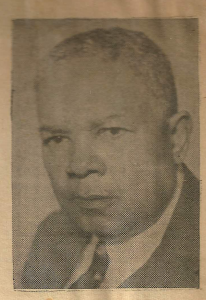 The Rev. Joseph Andrew Johnson, Sr., was born in Rapides Parish, Colfax, Louisiana on February 17, 1885, the son of Rev. Bowman Henry Johnson and Mrs. Martha Johnson.
He converted to Christianity at an early age, and experienced the call to Christian ministry at the age of 24. He was admitted on trial and ordained Elder by Bishop Elias Cottrell in the Louisiana Conference of the Christian Methodist Episcopal (CME) Church.
Rev. Johnson, Sr., served as pastor of some of the leading congregations of the Louisiana Conference, CME Church, and he served as Presiding Elder of the Monroe, Homer, Winnfield, and Minden Districts. He was elected to serve as a delegate to many sessions of the General Conference of the CME Church. Rev. Johnson, Sr., was known throughout the Church as an outstanding preacher and pulpiteer.
He was also known as a devoted husband and father. In 1908, he married Miss Rosa Bell Johnson, the daughter of Mr. and Mrs. Harry Johnson of Bossier City, Louisiana. They were blessed with nine children: Elsie Adams, Elizabeth Nelson, Bishop Joseph A. Johnson, Jr., Pearl Gillespie, Rev. James T. Johnson, Erlyne McClure, Dr, David H. Johnson, Charles E. Johnson, and Carrie Hood.
Almost all of the children of Rev. and Mrs. Johnson, Sr. were active in the CME Church, but three of the sons served in prominent roles. Rev. James T. Johnson served as a pastor and presiding elder in Louisiana. Dr. David H. Johnson served as president of Texas College in Tyler, Texas. Bishop Johnson was elected the 34th bishop of the CME Church and was the first black to graduate from Vanderbilt University.
Rev. Johnson, Sr., was a powerful influence in the life and ministry of Bishop Johnson. The back cover of Bishop Johnson's book, The Soul of the Black Preacher, describes Bishop Johnson as
"the son of a Methodist minister, born in a Methodist parsonage and nurtured in the changing scenes of a traveling preacher's family. From the time he could walk he followed his father as he went about ministering to his flock. He knows firsthand the misery, the heartbreak, the sacrifices and the grandeur of being a preacher. He cannot remember a time when he did not want to follow in the footsteps of his father."

                                     – Bishop Joseph A. Johnson, Jr., The Soul of the Black Preacher, back cover
Bishop Johnson did follow in his footsteps, and father and son both served in ministry for many years. At the invitation of Bishop Johnson, Rev. Johnson, Sr., was a guest preacher at Capers Memorial CME Church in Nashville while Bishop Johnson was pastor and attending Vanderbilt University.
Rev. Johnson, Sr. died on November 30, 1957, three years after Bishop Johnson graduated from Vanderbilt and less than one year before Bishop Johnson would also receive the PhD degree from Vanderbilt. The funeral service for Rev. Johnson, Sr was held at Martin Temple CME Church in Monroe, Louisiana. Bishop J. Claude Allen offered remarks, and Bishop F.L. Lewis delivered the eulogy. The cover of the funeral bulletin proclaimed words of scripture that all Christians long to hear, "Well done, good and faithful servant!"
Indeed, well done.