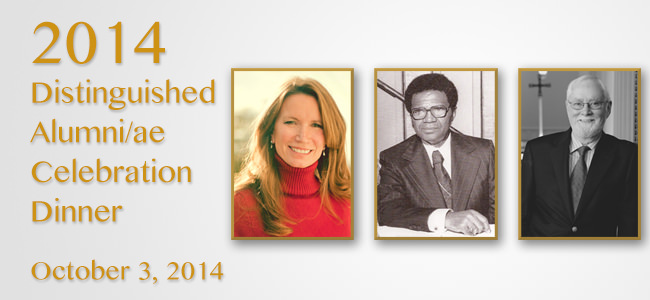 We are pleased to announce that Bishop Joseph A. Johnson, Jr. has been named a 2014 Distinguished Alumni/ae award recipient at Vanderbilt Divinity School. The Vanderbilt Divinity School award is "given to someone who has demonstrated excellence and distinction in justice making through their work in congregational ministry, religious institutions, ecumenical organizations, community –based organizations, government, or other social institutions."
In 1953, Bishop Johnson became the first African American to be admitted to Vanderbilt University. He went on to become the first African American to graduate, receiving the Bachelor of Divinity degree in 1954, and the first to receive the Doctor of Philosophy degree in 1958. In 1971, he was elected to the Vanderbilt Board of Trust and two years later preached at the Divinity School's Cole Lectures.
In 1966, Bishop Johnson was elected the 34th bishop of the Christian Methodist Episcopal Church. He also served as President of Phillips School of Theology, Professor of New Testament at the Interdenominational Theological Center, and Dean of Chapel at Fisk University
A pioneer in the field of black theology, Bishop Johnson authored several books, including The Soul of the Black Preacher (1971), The Local Church and Lay Evangelism (1974), Our Faith, Heritage, and Church (1975), Proclamation Theology (1977), and Basic Christian Methodist Beliefs (1978).
In 1984, the Bishop Joseph Johnson Black Cultural Center at Vanderbilt was dedicated in his honor. In 2013, the Bishop Joseph Johnson History Project was started by Bishop Johnson's granddaughter, Rev. Cynthia Johnson-Oliver.
Rev. Johnson-Oliver will accept the award on behalf of Bishop Johnson at a celebration dinner to be held on October 3, 2014 at Vanderbilt University. She will also present at a panel discussion on the life and legacy of Bishop Johnson at the Bishop Joseph Johnson Black Cultural Center.
Other 2014 award recipients include Rev. Dr. Thomas W. Ogletree and Rev. Becca Stevens. Previous Distinguished Alumni/ae recipients include James Lawson, Fred Craddock, Gardner Taylor and Charlotte Hotopp Zachary.
Click here to read article announcing Distinguished Alumni/ae Award.
Click here to read Vanderbilt Divinity School announcement.
Click here for more information about the panel discussion on the life and legacy of Bishop Johnson.