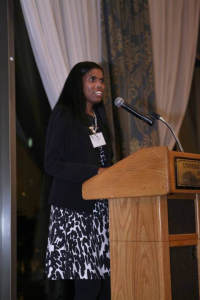 Rev. Cynthia Johnson-Oliver, President of the Bishop Joseph Johnson History Project, has been awarded a Pastoral Study Project grant from the Louisville Institute to fund her book project, The Soul of the Bishop: The Life and Legacy of Bishop Joseph A. Johnson, Jr. (1914-1979).
The book-length biography will chronicle the life of her grandfather, Bishop Johnson, the first African American to graduate from Vanderbilt University, receiving the Bachelor of Divinity in 1954.  Johnson went on to become the first African American to receive a PhD from the university, and the first to serve as a full member of the university's Board of Trusts. Johnson also became a Bishop in the Christian Methodist Episcopal Church. In 1984, five years after his death, the Bishop Joseph Johnson Black Cultural Center was dedicated on Vanderbilt's campus.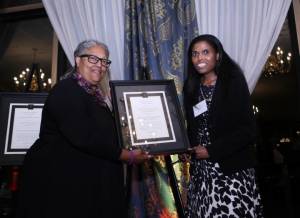 Most recently, in October 2014, Vanderbilt Divinity School posthumously awarded Bishop Johnson the Distinguished Alumni Award. Rev. Johnson-Oliver accepted the award on his behalf and organized a panel discussion to reflect on his life and legacy.
Rev. Johnson-Oliver, a graduate of Harvard Divinity School and Yale Law School, is an ordained elder in the Christian Methodist Episcopal Church currently serving "on loan" as an Associate Pastor at Annandale United Methodist Church. She will utilize the Pastoral Study Project grant to fund research and research-related travel as she investigates Johnson's life and times. She founded the Bishop Joseph Johnson History Project to connect with audiences and to preserve the history and papers of Bishop Johnson.
Through its Pastoral Study Project program (PSP), the Louisville Institute enables pastoral leaders to bracket daily work routines in order to pursue a pressing and significant question for the life of faith. Grants of up to $15,000 support independent or collaborative study projects – projects that privilege pastoral perspectives and rhythms and honor grassroots research conducted by skilled clergy. PSP grantees use a variety of platforms to share what they learn with a wider audience, extending their leadership in ways that benefit the broader church and culture in North America.
Louisville Institute is funded by the Religion Division of Lilly Endowment and based at Louisville Presbyterian Seminary (Louisville, Kentucky). The Institute's fundamental mission is to enrich the religious life of North American Christians and to encourage the revitalization of their institutions, by bringing together those who lead religious institutions with those who study them, so that the work of each might inform and strengthen the other.
For more information about the Biography Project, click here.