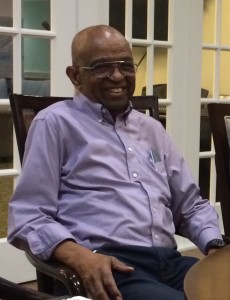 We are deeply saddened to announce the passing of Dr. Joseph Andrew "Joe" Johnson, III age 77. Joe passed away on Sunday morning, June 25, 2017. Beloved husband of Dr. Lynette E. Johnson; father of Christopher (Ivy) Johnson, Bradley (Sandra) Johnson, Kyla, and Tayari (Sean) Allardice; brother of Patricia (Larry) Powell. Joe was "Papa Joe" to 9 grandchildren and 1 great grandchild. Joe was preceded in death by his brother, Rev. Dr. Charles DeWitt Johnson.
Joe was born in Nashville, Tennessee to the late Bishop Joseph A. and Grace Johnson, Jr. He graduated from Fisk University with a B.A. in Physics Summa Cum Laude in 1960 and from Yale University with an M.S. in 1961 and a Ph.D. in Physics in 1965. He held a research position with Bell Telephone Laboratories and faculty appointments at Yale University, Southern University, Rutgers University, The City College (where he was named Herbert Kayser Professor of Science and Engineering) and at Florida A & M University (where he was Distinguished Professor of Science and Engineering and Professor of Physics) until he retired.
Joe investigated a wide variety of fundamental fluid and plasma phenomena publishing nearly 200 abstracts and research papers and producing 14 Ph.D.s in Physics and Mechanical Engineering. He received nearly $30M in research funding from NASA, NSF, and the Department of Energy providing new diagnostic tools for high speed flow, new insights in fundamental turbulent systems, and new approaches for hastening the evolution toward alternative sources for energy from high temperature turbulent plasmas.
Throughout his career, Joe played an important role in the development of minority American Scientists both as a science administrator and teacher. In November of 1989, Joe was elected an Associate Fellow of the American Institute of Aeronautics and Astronautics. In October of 1990, he was elected Fellow of the American Physical Society and during the same month, a Member of the Third World Academy of Sciences. He was elected in March, 1992, as a Charter Fellow of the National Society of Black Physicists and was cited for "distinguished contributions to research in physics and the related physical and engineering sciences, distinguished contributions to physics education, and contributions of the most noteworthy sort to the general goals of NSBP".
Joe was a devoted husband to his wife, Lynette, of 56 years. They enjoyed their worldwide travels together to France, England, Italy, Ghana, Benin, Brazil, and a 3 week cross country trip from New Jersey to California and back, in a Plymouth van, with 4 children in the summer of 1977. Joe had a passion for photography and visited many botanical gardens to get the right shot of various flowers. He enjoyed spending time with his grandchildren, listening to jazz music, frequenting the movies, obtaining the latest and greatest technological gadget, and attending football games to cheer on the New York Giants. Perhaps his greatest accomplishment and contribution to this world was being an encouraging, supportive, and caring husband, father, and Papa Joe. If you knew Joe or had the privilege to spend time with him you are a better person for it.
The family will receive friends at 3:00 pm on Saturday, July 1, 2017 at Lee Hall Auditorium, Florida A&M University, 1601 S. Martin Luther King Blvd., in Tallahassee, FL, with a celebration of Joe's life at 4:00 pm. A reception will be held following the celebration at the Grand Ballroom.
In Lieu of flowers donations can be made to the United Negro College Fund. https://secure2.convio.net/uncf/site/SPageNavigator/2016Donate.html
Special Note: Johnson family members had the opportunity to spend time with Uncle Joe at a family gathering in Atlanta in 2016. Additionally, that same year, Joe received the Bouchet Leadership Award Medal in recognition of his distinguished career in physics as well as his historic role as the second African American to receive a PhD in physics at Yale University. Here are some of our favorite images from those events:
This slideshow requires JavaScript.