About Bishop Joseph A. Johnson, Jr.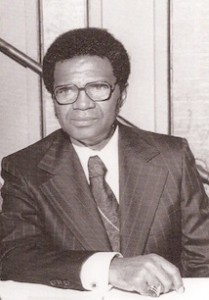 "Every time we choose the difficult right rather than the easy wrong we gain our lives."
– Bishop Joseph A. Johnson, Jr, The Soul of the Black Preacher
Bishop Joseph Andrew Johnson, Jr was the first African American to be admitted and to graduate from Vanderbilt University. He was also a Bishop in the Christian Methodist Episcopal Church.
Born on June 19, 1914 in Shreveport, Louisiana, Bishop Johnson was the third child and oldest son of Rev. and Mrs. Joseph A. Johnson, Sr (Rose).
In 1938, he married Grace Leon Johnson, who was his faithful companion for 41 years. They had three children, Joseph Andrew Johnson, III, Charles DeWitt Johnson, and Patricia Ann Johnson-Powell.
Bishop Johnson graduated from Monroe Colored High School in Monroe, Louisiana. He went on to receive the BA degree, with honors, from Texas College in 1938. He continued his education at Iliff School of Theology, where he received the Master of Theology degree in 1943 and the Doctor of Theology degree in 1945.
In 1953, Bishop Johnson became the first African American to be admitted to Vanderbilt University. He went on to become the first African American to graduate, receiving the Bachelor of Divinity degree in 1954, and the first to receive the Doctor of Philosophy degree in 1958. In 1971, he became the first African American member of the Vanderbilt University Board of Trust.
Bishop Johnson entered the Christian ministry in 1933 and was ordained Elder in 1937. He began his pastoral career in 1938 at Mays Chapel and St. Mary Chapel CME Churches in Ruston, Louisiana. Over the next 20 years, he served as pastor of Phillips Chapel CME Church in Nashville, Tennessee, Cleaves Memorial CME Church in Denver, Colorado, and Capers Memorial CME Church in Nashville.
Bishop Johnson served as President and Professor of Christian Theology at Phillips School of Theology, Professor of Religion at Fisk University, and Professor of New Testament at the Interdenominational Theological Center in Atlanta, GA. During his 33 years as a New Testament professor, he was considered a brilliant scholar who touched the lives of numerous young ministers who sought to emulate his scholarship and his profoundly moving preaching style.
In 1966, Bishop Johnson was elected the 34th bishop of the Christian Methodist Episcopal Church. He served as Presiding Bishop of the Fourth Episcopal District (Louisiana and Mississippi), Chairman of the College of Bishops, and Chairman of the Board of Christian Education, among other roles.
Bishop Johnson travelled extensively as a lecturer and to represent the CME Church at numerous conferences, including the Eight Ecumenical Methodist Conference in Oxford, England, the Third World Conference on Faith and Order in Sweden, and the Ninth Assembly of the World Council of Churches in Nairobi, Kenya.
Bishop Johnson authored numerous publications, including five books: The Soul of the Black Preacher (1971), The Local Church and Lay Evangelism (1974), Our Faith, Heritage, and Church (1975), Proclamation Theology (1977), and Basic Christian Methodist Beliefs (1978).
Bishop Johnson died on September 29, 1979. Five years later, in 1984, the Bishop Joseph Johnson Black Cultural Center at Vanderbilt University was dedicated in his honor.
In the more than thirty years since his death, Bishop Johnson's legacy continues to live in the many young clergy he ordained, the young scholars he inspired, in the church that he served throughout his life, and the generations of Vanderbilt students who attend meetings, events, and gatherings at the Bishop Joseph Johnson Black Cultural Center, affectionately known as "the House."
The Bishop Joseph Johnson History Project exists to preserve the oral history and papers of Bishop Johnson and to meet the continuing demand for his books, sermons, and papers that persists over 30 years after his death. Rev. Cynthia Johnson-Oliver, granddaughter of Bishop Johnson and ordained Elder in the CME Church, is writing a book length biography of Bishop Johnson to preserve this history for future generations.