The Soul of the Bishop
The Life and Legacy of Bishop Joseph A. Johnson, Jr. (1914-1979)
by Rev. Cynthia Johnson-Oliver
How did a former groundskeeper at Vanderbilt University become
the first African American to graduate from the university?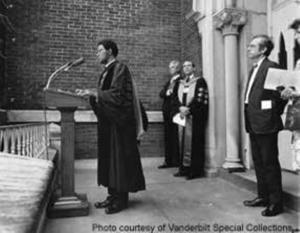 In 1953, Joseph A. Johnson, Jr. returned to the campus of Vanderbilt University after almost 13 years. This time, instead of working as a groundskeeper, he returned as the university's first African American student. The path, from his first arrival to his second, was complex and courageous. Nevertheless, in 1954, Johnson became the first black to graduate from Vanderbilt University. He went on to become the first to receive a PhD from the university (1958), and the first to serve as a full member of the Board of Trusts. Johnson also became a Bishop in the Christian Methodist Episcopal Church. In 1984, five years after his death, the Bishop Joseph Johnson Black Cultural Center was dedicated on Vanderbilt's campus. Recently, Johnson was posthumously conferred the Distinguished Alumnus Award by Vanderbilt Divinity School.
While Johnson's extraordinary accomplishments are known to many, little has been written about the details of his life. This project seeks to fill that void by producing a book-length biography that will provide a narrative of Johnson's ancestry, life, and times; chronicle his experience as the first black student at Vanderbilt; place his life and ministry in the historical context of American Methodism's divisions over race; outline his contributions to black theology and civil rights; and explain the significance of his legacy to the church and society today. By revisiting our nation's complex racial past, this book will further contemporary conversations on racial discrimination and reconciliation. This research project provides the opportunity to, in the words of Confucius, "Study the past if you would define the future."
++++++
About the Author
Rev. Cynthia Johnson-Oliver is the granddaughter of Bishop Johnson and is the president of the Bishop Joseph Johnson History Project. A graduate of Harvard Divinity School and Yale Law School, Rev. Johnson-Oliver is an ordained Elder in the Christian Methodist Episcopal Church currently serving "on loan" as an Associate Pastor at Annandale United Methodist Church. She is currently researching and conducting interviews for the biography.
Contact Rev. Johnson-Oliver if you knew Bishop Johnson and would like to be interviewed for the biography. Follow her journey on the History Project Blog.

The author wishes to acknowledge grant support from the Louisville Institute,
funded by the Religion Division of the Lilly Endowment.